Municipalities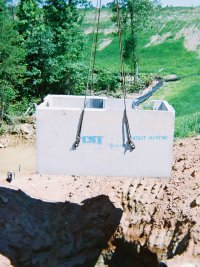 CrystalStream Technologies has a lot to offer any community. We don't just sell a stormwater treatment device for a site and leave. We think about the long-term consequences. We do our best to design each site on a "site-by-site" basis, after we have an initial visit with you. On that visit, we set guidelines for the use of our stormwater treatment products in your jurisdiction. The guidelines will be based on your regulations and your local watershed needs. We will show you our third party testing, and how we comply with water quality regulations. Before you ever see us on a drawing, we will have agreed with you exactly where and how our devices are to be used, if at all. Once you approve a design, you will have the confidence that our device will be properly installed, because we will have personnel on site. All aspects of the installation will be checked carefully by one of our employees.
After the construction is over, we will still be on the job. We clean and maintain almost all of our stormwater treatment units, with the exception of a few public entities such as a DOT agency. The individual owner is unlikely to think about cleaning and maintenance, so we contract with him to make sure he stays within the law and that the device is operating properly at all times. We welcome your inspectors at any time, and provide an extra set of "eyes" for them as well.
We think that we have four customers on every job and we have customer service designed to make things better for each of them. For municipalities, we offer site specific design, supervision during construction, and a lasting presence in the community. For engineers, we provide design details, calculations, and review assistance. For contractors, we provide equipment, advice, and expertise. For the owner, we provide a lasting relationship designed to keep them in compliance with local, state, and federal rules and regulations. Sometimes, municipalities see the cost efficiency of our designs, and become a customer in the real sense of the word by using our stormwater treatment devices themselves. We would love to look at your next project and show you our customer service first hand.